Used-aircraft prices have declined less than expected despite a +50% decrease in transactions relative to 2019
Q2 2020 Used-Aircraft Market Summary
Used-aircraft prices have declined less than expected despite a +50% decrease in transactions relative to 2019
Aircraft 

values have declined ~10%

 relative to pre-COVID pricing, though large cabin jets have experienced larger declines.

Buyers are willing to 

pay a premium for a turn-key aircraft

 that can be put into service immediately.

53% fewer used-aircraft transactions were completed in April and May of 2020 relative to the same period in 2019.
Tax benefits passed in the 2020 CARES Act may provide the basis for increased activity and valuations if there is increased economic clarity in Q3 and Q4 2020.
Values have only declined ~10% on average; Larger jets have seen larger declines
At the start of the COVID-19 pandemic, many aircraft buyers were excited by the prospect of aircraft fire-sales and desperation deals. This expectation has not matched reality.
Based on our recent deal experiences, used-aircraft values have declined ~10% relative to pre-COVID pricing. 
As seen in the table below, smaller aircraft with regional missions have been relatively insulated from significant price impacts. In contrast, large cabin aircraft have seen far greater declines in value. We largely attribute this to COVID-related travel restrictions and the associated decline in demand for aircraft with intercontinental ranges.

Anecdotally, we have seen buyers pay significant premiums for turn-key aircraft. Given the health concerns associated with travel, buyers are looking for aircraft that can be used immediately as an alternative to commercial air travel. Aircraft that have plenty of time on their engines, are ADS-B current, and are up to date on their maintenance will see significant interest from the marketplace.
Used-aircraft transactions are down +50% relative to April/May of 2019
As many aviation pundits expected, the COVID-19 pandemic resulted in a significant slow down in the used aircraft market. There were 113 fewer used-aircraft transactions completed in April and May of 2020 relative to 2019, a 53% decrease.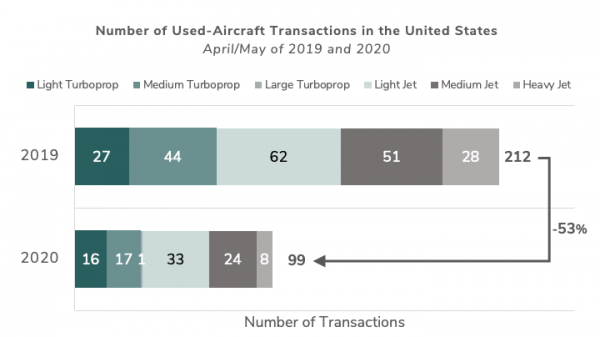 We believe that the slow down in transactions can be attributed to several factors including:
Difficulty in traveling to evaluate an aircraft due to reduced commercial flight schedules and stay-at-home orders

Lack of market clarity – buyers anticipated large price reductions while sellers were hesitant to rush into price cuts

Government policy responses to COVID (primarily PPP loans) stemmed many business' short-term cash flow problems; as such, asset sales were not top of mind
Tax benefits in the CARES Act may boost valuations in Q3, Q4 2020
Going forward in 2020, we will be closely monitoring the impact of the CARES Act on aircraft valuations. Changes in the tax code, along with the existing policy of 100% depreciation of business aircraft, may help business owners justify an aircraft purchase.
The CARES Act "reinstates the ability for taxpayers to deduct current year tax losses against income from a prior tax year and receive immediate tax refund." Tax losses in 2020 can be applied against taxable income going back five years to 2015.
As we approach year-end, we expect that some business owners may be enticed by the tax refund benefit and purchase an aircraft to take full advantage of the policy change. Valuations could rise as a result of increased demand.
Ultimately, aircraft values in the back-half of 2020 will likely be dependent on the fundamental strength of the economy. It will be interesting how the corporate aircraft market changes as businesses reevaluate their future in the COVID era.